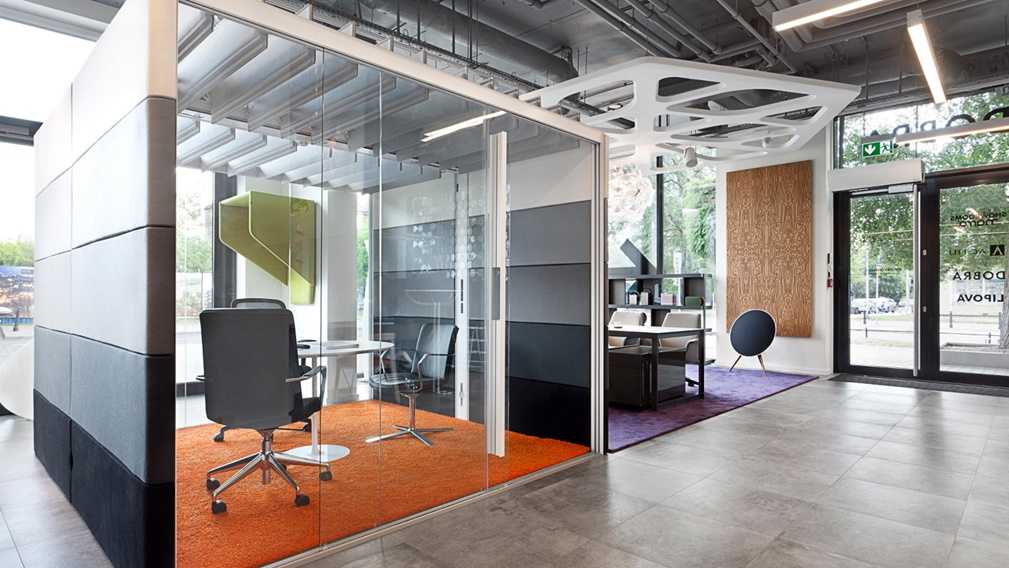 For many companies, shifting to a hybrid model of work and flexible offices may be one of the key changes of the new reality impacted by COVID-19. There are many various types of flexible office to shift towards more agile business practices.
The flexible office is a workspace with flexibility to choose location, size, term and services. Types of flexible office:
Serviced offices
Coworking spaces
Managed offices
Virtual offices
Leases, sublets and workshop units
The one of the key flexible office differentiators from a standard office is that a conventional lease lasts for several years, but a flexible office enables a business to take a workspace in the any chosen location with monthly rent payment and with the possibility to adjust the contract at short notice.
A serviced office is a furnished and fully-equipped ready-to-use office space for rent on a monthly fee per desk and flexible pay-as-you-go service with on-demand basis. Utility bills, IT support, maintenance and security are also included in the price. Usually, serviced offices located in the building managed by operators that are responsible for maintaining the facilities and accommodating businesses. Serviced office is popular with companies of all sizes from large multinationals to startups and freelancers. It fits the companies that are building a user-centric activity-based environment and also suitable for flexible co-working spaces that are shared by employees from different companies. It is a kind of Airbnb concept but for business purposes space renting.
A managed office is an individually prepared workspace solution procured and managed by a single supplier from start to finish. This type of flexible workspace combines advantages of serviced office and traditional leased approach: designed inline with customized branding, built and fit-out according to company's needs, fixed quarterly payment with flexible lease terms for more than 50 people, move in within 6-8 weeks, suitable for 18+ months rent.
Flexible office approach is redefining the relationship between tenants and property owners/landlords and an essential part of long-term corporate real estate strategy. As a result, more landlords will need to assess the various flex operational models and formats in the portfolio. It is absolutely important to manage office property and design an efficient workspace to utilize building in full potential. Property management is taking on a key role in rising demand for flexible space.
There are many engaged players in the office facilities management: employers and employees, tenants and landlords, development and construction companies.
In the previous article we spoke about flexible office advantages and challenges from employees and companies' side, this time let's look at the topic from a landlord/property owner perspective.
Benefits and challenges of flexible office from landlords' perspective
Benefits
a workplace adapts to changes and easy to scale for more or less number of tenants
stream of consistent tenants because of more flexibility to meet requirements of any size tenants
do not need to find the tenants as operators responsible for building management take this responsibility
partnering with a skilled operator can provide valuable insights into what's happening within the building and help provide tenants with a better level of service and user experience that will increase office building competitiveness and develop a long-term relationship with the end clients
Challenges
need for big office spaces is reduced and it is required to reconsider leasing space in a different way
more tenants want short-term rental contracts which they can easily pause and allocate facilities management costs on office providers
how to design flex space and density efficiently and how to apply flex space to buildings
how to operate building assets
how to mitigate possible negative impact of flex offices on building operations and working environment, for instance, flex space can cause a certain level of disruption to other tenants within the building in terms of people flow, ventilation and elevator usage and ets
the new skillsets required to staff flex spaces
flex space involves significant CapEx
Recommendations for landlords/property owners how to overcome challenges on the way to the flexible office approach
To renew the building spaces as flexible workplaces
Adapt space and furniture solutions to the changing needs of the tenants by providing more flexible and modular office designs that enable building features such as walls, ductwork and power points to be moved and reconfigured within a relatively short timeframe.
Reconfigure spaces within requirements for social distancing and less touch points to assure attendance in high health safety standards and enhanced medical recommendations.
Keep workplace up to date and optimised according to the changing needs of the users.
To reconsider the lease approach and agreements
Offer flexible lease agreements according to tenants needs: "office as service" or "office on demand"
Looking to partner with experienced providers through management agreements entitling them to a share of the profits. It can be signing traditional leases with flex office operators, forming joint ventures and profit shares, entering into management agreements by signing a deal with a company which is administer the day-to-day business of maintaining amenities and managing lease agreements with tenants.
Develop the process to make any contracts changes fast and easy.
Engage property managers to collaborate and share the expertise
Use property managers expertise to collaborate for space and facilities management reassessment, define the potential risks of leases with flex operators.
Engage property managers to mitigate the possible impacts of a higher density than traditional office space and considerable strain on building operating and assets.
Provide additional services to increase the building attractiveness
Deliver services such as sound system, tele/conference equipment, isolation pods and single meeting rooms, studio rooms to create digital content, access to bookable meeting space, conference rooms, safes, desktops, parking, manned reception desk, restaurants or catering, well-being facilities and ets.
Include small perks: tea, coffee machines, fully-stocked kitchens, breakout areas with some table games and sofas. These services are typically shared between tenants helping to reduce costs.
Provide classes and other programs, initiate networking events for the entire workforce.
Differentiate services with non-standard options, e.g., patient rooms for in-house psychologists and even pop-up space for counselling.
Adopt a hospitality-first approach.
Collect data from the back end to analyze what is actually being used and valued, draw information from building management systems, tenant feedback and predict future trends in demands.
Use technology for space and facility management, people access and flow in the building
Power flex space with technologies that are driving outcomes such as meaningful data insights around usage and engagement of the workforce within the space, while removing friction and automating communication between people and their workspace.
Technology can deal with the office access control, inventory management, facilities and office space management, attendees navigations and with other functions.
Flexible office spaces require thoughtful planning and technology can make your office transformation easier and efficiently. Skyscraper company strive to help you to implement flexible office concept. We have workspace management technologies which make your office more innovative and smarter and help to generate demand for your building and increase competitiveness.
Read on to find out how technology can help to manage facilities and optimize property for flexible office.